Friday, December 7, 2012
4:09 AM
Assalamualaikum dan Annyeonghaseyo.
Hari ni Qis nak join Segmen ber-Anime :D Jom join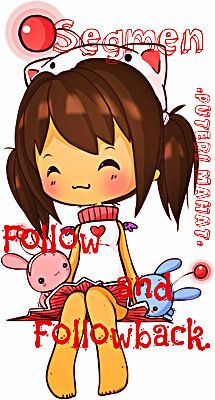 Klik banner untuk join atau klik
SINI
1. Nama: Balqis
2. Umur: 11 tahun (2012)
3. Status [single, taken, married, etc]: Single but in love with my SuJu Oppa
4. Favourite colour: Pink
5. Birthdate: 3 June 2001
6. Sweet memories on 2012: Dapat nombor 2 dalam kelas. :D

*memang betul*


7. Blogging since: 2011
8. Crush. Yes or no?: Yes
9. Still love your ex?: Maybe
10. Is there second chance for your ex?: Maybe
11. Height: 149.5 cm
12. Weight: 46 kg
13. Interest with Kpop?: yup.
14. Bestfriends: Sofea, Hidayu, Zarina and more......
15. A friend from childhood: Zarina
16. Has someone break your heart?: Yes
17. Someone important: my family and Allah18. Last time you cry: can't remember ;P
19. Do you like my blog?: 100% LOVE IT!
20. Any changes that I should do to my blog?: nope~
1. Do you love KPOP? Which are your favorite?

2. Anda suka lelaki yang mana?

3. Which celebrity do you like?

4. Does your love also like KPOP?
5. If one day, your love with other girl. what would you do? how do you feel?
Labels: Segmen